Hiblow HP Linear Diaphragm Pumps
Posted by: zeus
Posted: 28 March 2018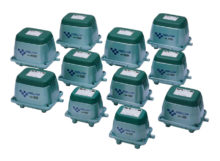 Hiblow HP Linear Diaphragm Pumps

Hiblow-HP-Series-Datasheets.pdf
Hiblow HP Linear air pumps all have low power consumption, quiet operation, low vibration, low pulsation, long life, and are easy to service. Hiblow HP Linear Diaphragm Pumps can deliver between 20-200 litres a minute air volume.
Features
Durability – The vibrating part consists of an actuating rod supported by two special synthetic rubber diaphragms which vibrates laterally and this allows long-term continuous operation
No lubrication – There is no sliding portion between moving parts so that no lubrication is required and the exhausted air is always clean
High efficiency – Owing to the electromagnetic vibration construction which eliminates sliding parts, Hiblow pump realises lower power consumption and high performance
Compact and powerful – Hiblow air pumps employs perfectly-balanced vibration mechanism using two electromagnets, one in the front and the other in the rear. This mechanism allows compact size and powerful device
Low noise – Soundproofing construction from the viewpoint of air circuit and vibration is the key factor in the design of an air pump and the Hiblow pump has an exceptionally quiet sound level
Smooth air flow – Because the exhaust air volume is very constant and there is less pulsation, Hiblow pump is suitable for the application which requires consistent air pressure and supply
Simple maintenance – Hiblow pumps can be used for longer periods with out requiring maintenance, however, replacement of parts can easily be done by modular type of parts in case that a diaphragm might be broken
Applications
Fish breeding equipment (oxygen supply)
Low frequency therapeutic equipment and other medical & scientific apparatus
Septic tank (biological contact aeration)
Bubble bath (air bubble injection)
Small capacity compressor
You have not viewed any product yet.