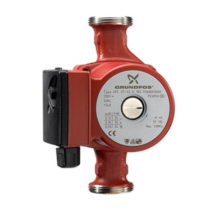 Grundfos UPS Series Pumps

Grundfos UPS Series Pumps
Grundfos UPS Series Pumps are 3-speed circulator pumps, available both in 50 and 60 Hz. The pumps are designed for circulation of liquids in heating and air-conditioning systems and can be used in both open and closed systems. Grundfos UPS pumps are of the canned-rotor type, i.e. pump and motor form an integral unit without a shaft seal and with only two gaskets for sealing. The bearings are lubricated by the pumped liquid.
Features and Benefits
Maintenance-free
Low noise
Low energy
Complete range
Available with corrosion-resistant stainless steel or bronze pump housing
Wide range of accessories
Applications
One and two-pipe heating systems
Main pumps
Zone pumps
Boiler shunt pumps
Pumps for heating surfaces
Calorifiers
Underfloor heating systems
Solar heating systems
Heat pump systems
Geothermal heating systems
Heat recovery systems
Two-pipe air-conditioning systems
Pumps for refrigeration units
Grundfos Pumps
Grundfos is one of the world's leading pump manufacturers, producing over 16 million pump units each year. They are the world largest manufacturer of circulator pumps, covering approximately 50 per cent of the world market for these pumps. In addition to pumps they also produce standard and submersible motors as well as state-of-the-art electronics for monitoring and controlling pumps.
You have not viewed any product yet.