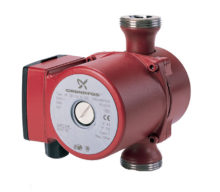 Grundfos UPN Series Circulator Pumps

The Grundfos UPN Circulator Pumps in stainless steel are specifically designed for household hot water systems, and solar hot water applications.
Features
Meets requirements of AS/NZS 4020 "Testing of products for use in contact with drinking water". No risk to water quality thanks to the main components being stainless steel (pump housing, bearing plate, stator and rotor can (stainless steel AISI 304)
Interchangeable with most of the installed bronze models (150 mm port to port)
You have not viewed any product yet.