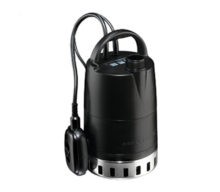 Grundfos Unilift CC Series Pumps

The Unilift CC is a single-stage submersible drainage pump, designed for the pumping of drain water and grey wastewater. The Unilift CC can pump down to a water level of 3 mm above the floor by removing the strainer. The Unilift CC is suitable for permanent as well as temporary installation. The Unilift CC is fitted with a non-return flap valve in the outlet in order to prevent backflow from the piping system.
The strainer is made of stainless steel, while the main pump parts, e.g. the sleeve and pump housing, are made of moulded composite materials.
Applications
Water and rainwater in horticulture
Water from rivers and lakes
Rainwater, drainage water and water from flooding
Water for filling/emptying containers, ponds, tanks, etc
Effluents from showers, washing machines and sinks below sewer level
Pool water
Ditch drainage water
Groundwater (lowering applications)
Effluents from viaducts, underpasses, etc
Drainage water from garage sprinkler systems
Features and Benefits
Composite materials
Stainless steel strainer
Self-venting valve in handle
Available with level switch
Suitable for low suction levels
Light-weight
You have not viewed any product yet.