Grundfos Unilift CC Series Pumps
Posted by: zeus
Posted: 02 May 2016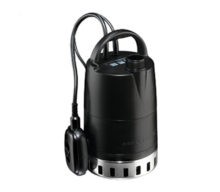 Grundfos Unilift CC Series Pumps

Grundfos_Unilift_CC_Brochure.pdf
Images are for illustrative purposes only 
Grundfos Unilift CC Series Pumps
The Grundfos Unilift CC is a single-stage submersible drainage pump, designed for the pumping of drain water and grey wastewater. The Grundfos Unilift CC can pump down to a water level of 3mm above the floor by removing the strainer. The Unilift CC is suitable for permanent as well as temporary installation. The Unilift CC is fitted with a non-return flap valve in the outlet in order to prevent backflow from the piping system.
The strainer is made of stainless steel, while the main pump parts, e.g. the sleeve and pump housing, are made of moulded composite materials.
Applications
Water and rainwater in horticulture
Water from rivers and lakes
Rainwater, drainage water and water from flooding
Water for filling/emptying containers, ponds, tanks, etc
Effluents from showers, washing machines and sinks below sewer level
Pool water
Ditch drainage water
Groundwater (lowering applications)
Effluents from viaducts, underpasses, etc
Drainage water from garage sprinkler systems
Features and Benefits
Composite materials
Stainless steel strainer
Self-venting valve in handle
Available with level switch
Suitable for low suction levels
Light-weight
Grundfos Pumps
Grundfos is one of the world's leading pump manufacturers, producing over 16 million pump units each year. They are the world largest manufacturer of circulator pumps, covering approximately 50 per cent of the world market for these pumps. In addition to pumps they also produce standard and submersible motors as well as state-of-the-art electronics for monitoring and controlling pumps.
Please note: Grundfos Products on offer are new, comes in its original packaging with full manufacturer's manuals and is subject to limited manufacturer's warranty and consumer guarantees as per the Australian Consumer Law.
OzPump's warranty policy is set out in our Terms & Conditions.
You have not viewed any product yet.