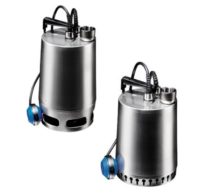 Grundfos Unilift AP Series Pumps

The Grundfos Unilift AP Series consists of the AP12, AP35 and AP50 models.
AP12
The Grundfos Unilift AP12 is a submersible stainless steel drainage pump with capacitor and thermal overload protection. The impeller is a semi open impeller for 12 mm free passage, suitable for pumping groundwater, surface water, rain water and similar. The pumps include a float for automatic operation.
AP35 and AP50
The Grundfos Unilift AP 35 & 50 is a single-stage, submersible pump with vortex impeller, designed for pumping effluent and sewage, containing particles up to a size of Ø50 mm (Unilift AP 50) and Ø35 mm (Unilift AP 35). The Grundfos Uniift AP 35 and 50 is available for automatic as well as manual operation and can be used in a permanent installation or as a portable pump. The pump is easily installed, as it is fitted with a carry handle and 10m mains cable. This pump is mostly made of stainless steel, with a stainless steel sleeve for cooling during operation. The stainless steel pump sleeve is made in one piece, with a clipped on suction strainer, for easy removal, in case of maintenance.
You have not viewed any product yet.