Grundfos SCALA2 Series Pumps
Posted by: zeus
Posted: 24 June 2018
SAVE 37%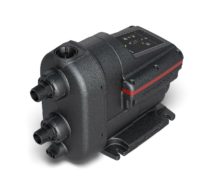 Grundfos SCALA2 Series Pumps

Grundfos-Scala2-Flyer.pdf
Images are for illustrative purposes only 
Grundfos SCALA2 Series Pumps
The Grundfos SCALA2 water booster pump is a variable speed pump that adjusts performance according to water demand, providing constant pressure to all taps. The pump is fully integrated and includes a motor, tank, sensor, drive and non-return valve in one compact unit that is quick and easy to install. The Grundfos SCALA2 is self-priming, allowing for use from both above and below ground water sources and the water-cooled motor ensures quiet operation.
Features & Benefits
Variable Speed – The pump adjusts performance according to water demand, providing constant pressure to all taps regardless of variations in demand or inlet pressure.
Self-Priming – Ideal for pressurising water from above or below ground water sources with a suction lift of up to 8 metres and self-priming up to 4 metres.
Energy Efficient – The pump features a permanent magnet motor to help reduce power consumption while the frequency controller matches the power consumption with the required water output, also helping to conserve energy and reduce energy bills.
Simple Selection – One model to suit most domestic applications makes selection easy.
User Friendly – The easy-to-use control panel features LED indicators displaying power status, pressure setting and alarm indicator lights.
Protective Functions – To protect the pump and help ensure a long life, a range of protective features are incorporated into the pump such as; dry-run protection, anti-cycling alarm, auto-reset and maximum continuous operation time (30 mins).
Easy Installation – Quick and easy installation in just three steps; connect the pipes, prime the pump and plug into the power outlet.
Integrated Non-Return Valve – No additional non-return valve required – plug and pump solution.
Applications
Household water supply
Pressure boosting from above ground rainwater or holding tanks
Pressure boosting from below ground water sources – eg. below ground tank or dam
Mains boosting
Grundfos Pumps
Grundfos is one of the world's leading pump manufacturers, producing over 16 million pump units each year. They are the world largest manufacturer of circulator pumps, covering approximately 50 per cent of the world market for these pumps. In addition to pumps they also produce standard and submersible motors as well as state-of-the-art electronics for monitoring and controlling pumps.
Please note: Grundfos Products on offer are new, comes in its original packaging with full manufacturer's manuals and is subject to limited manufacturer's warranty and consumer guarantees as per the Australian Consumer Law.
OzPump's warranty policy is set out in our Terms & Conditions.
You have not viewed any product yet.