Grundfos GT Series Pressure Tanks
Posted by: Oz pump
Posted: 30 June 2016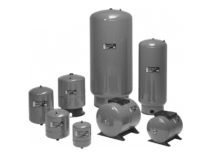 Grundfos GT Series Pressure Tanks

GT_Tank_Overview.pdf
Images are for illustrative purposes only 
Grundfos GT Series Pressure Tanks
The Grundfos GT pressure tanks are long-life tanks ideally suited for controlling the pressure in domestic as well as industrial applications in the following systems:
cold-water (drinking-water) systems
heating systems
Grundfos GT tanks ensure long, maintenance-free, reliable and controlled operation. GT tanks can be integrated in many different systems with a wide variety of pumps. The large number of tank sizes and types available makes it possible to select the pressure tank that best suits the application and system in question.
Grundfos Pumps
Grundfos is one of the world's leading pump manufacturers, producing over 16 million pump units each year. They are the world largest manufacturer of circulator pumps, covering approximately 50 per cent of the world market for these pumps. In addition to pumps they also produce standard and submersible motors as well as state-of-the-art electronics for monitoring and controlling pumps.
Please note: Grundfos Products on offer are new, comes in its original packaging with full manufacturer's manuals and is subject to limited manufacturer's warranty and consumer guarantees as per the Australian Consumer Law.
OzPump's warranty policy is set out in our Terms & Conditions.
You have not viewed any product yet.