Grundfos CRN 1
Posted by: zeus
Posted: 25 June 2018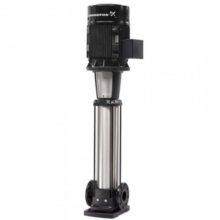 Grundfos CRN 1

Grundfos-CR-CRI-CRN-Brochure.pdf
Images are for illustrative purposes only 
Grundfos CRN 1 Series Pumps
CRN 1 is part of the Grundfos vertical multistage centrifugal pumps range.
The Grundfos CRN 1 pump's in-line design enables the pump to be installed in a horizontal one-pipe system where the suction and discharge ports are in the same horizontal plane and have the  same pipe dimensions.  This design provides a more compact pump design and pipework.
The Grundfos CRN 1 pump comes complete with pump unit and Grundfos motor.
Pump
The pump consists of a base and a pump head. The chamber stack and the outer sleeve are secured between the pump head and the base by means of stay bolts. The base has suction and discharge ports on the same level (in-line). All pumps are equipped with a maintenance-free mechanical shaft seal of the cartridge type.
Motor
Grudfos motors are all heavy-duty 2-pole, NEMA C-face motors.
Applications
The CRN 1 pump is particularly suited for use with pumping industrial liquids. This is due to all parts that will come into contact with the liquid are constructed of high-grade stainless steel.
Grundfos Pumps
Grundfos is one of the world's leading pump manufacturers, producing over 16 million pump units each year. They are the world largest manufacturer of circulator pumps, covering approximately 50 per cent of the world market for these pumps. In addition to pumps they also produce standard and submersible motors as well as state-of-the-art electronics for monitoring and controlling pumps.
Please note: Grundfos Products on offer are new, comes in its original packaging with full manufacturer's manuals and is subject to limited manufacturer's warranty and consumer guarantees as per the Australian Consumer Law.
OzPump's warranty policy is set out in our Terms & Conditions.
You have not viewed any product yet.