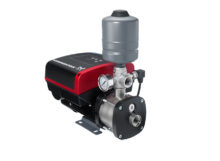 Grundfos CME Booster Series Pumps

The horizontal multistage CME is a compact booster pump which allows constant pressure via integrated speed control.
The CME is compact, noiseless, reliable and flexible, and this makes it an optimal solution for installation and interaction with other components in a large system.
Features and Benefits
Robust design – All wetted parts are made from high quality stainless steel to ensure the longest life possible.
Easy installation – The CME Booster is very easy to install. Once the booster has been connected to the pipework, it is simply a matter of putting the plug into a socket, and the system is operational.
Quiet operation – The CME Booster operates quietly, at around 55 decibels, significantly quieter than most pumps currently available on the market.
User friendly interface – The user-friendly interface features LED indicators showing operational status and buttons for pressure adjustment.
Protective features – The CME Booster features dry run protection to automatically stop the pump if the water source runs out. The pump is also protected against any accidental overload by built-in thermal protection. These protective features help to ensure the longest life possible.
You have not viewed any product yet.