Grundfos CM Basic Series Pumps
Posted by: Oz pump
Posted: 15 August 2016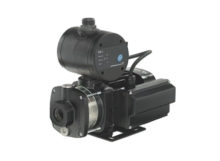 Grundfos CM Basic Series Pumps

CM-Booster-Brochure_AUST_email-version.pdf
Images are for illustrative purposes only 
Grundfos CM Basic Series
The Grundfos CM Basic pressure system is a compact booster pump for water supply in domestic and light commercial water applications. The unit consists of a Grundfos CM cast iron pump and a Grundfos PM1 pressure manager that allows the pump to start and stop automatically according to demand.
Features & Benefits
Compact design to cater for most spaces
Use of stainless steel impellers provides the longest possible life
Dry-running protection saves your pump from damage if your water supply runs out
Anti-cycling alarm informs homeowners of potential pipe leakage, saving water and protecting the pump
Suitable for generator operation
Applications
Mains boosting
Household water supply
Boosting from above ground water tanks
Light industrial use
Construction
Stainless steel impeller, intermediate chambers and shaft
Cast iron housing
Hard wearing carbon / ceramic seal
IP55 motor
Voltage: 1 x 240 V, 50 Hz
Grundfos Pumps
Grundfos is one of the world's leading pump manufacturers, producing over 16 million pump units each year. They are the world largest manufacturer of circulator pumps, covering approximately 50 per cent of the world market for these pumps. In addition to pumps they also produce standard and submersible motors as well as state-of-the-art electronics for monitoring and controlling pumps.
Please note: Grundfos Products on offer are new, comes in its original packaging with full manufacturer's manuals and is subject to limited manufacturer's warranty and consumer guarantees as per the Australian Consumer Law.
OzPump's warranty policy is set out in our Terms & Conditions.
You have not viewed any product yet.