Flux Drum Pump Kits
Posted by: zeus
Posted: 10 May 2017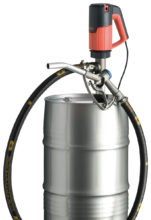 Flux Drum Pump Kits

Flux-Pump-Kits-Brochure.pdf
Flux Drum Pump Kits have been designed to facilitate the immediate extraction of liquids from drum containers.
The kit contains everything needed for immediate operation, including the motor, pump, hose, quick action tap and compression gland.  No longer do you have the tedious chore of flicking through catalogues for numerous items, they are all contained within the Flux Drum Pump Kit.
You have not viewed any product yet.