Aquaplus SDA Series – Heavy Duty Submersible Dewatering Drainage Pumps 415V
Posted by: ozpumpuser
Posted: 07 May 2018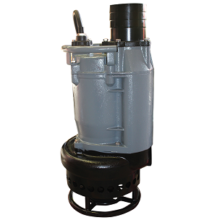 Aquaplus SDA Series – Heavy Duty Submersible Dewatering Drainage Pumps 415V

Aquaplus_SD_SDA_SDL_Brochure-1.pdf
Aquaplus SDA Series 415V submersible pumps are used in applications such as construction dewatering and sump drainage.
Features
• Agitator
• Cast iron casing, ductile iron suction cover and chrome iron impeller
• Built in oil lifter enhances sealing life and performance
• Dual silicon carbide mechanical seals in an oil bath
• Pump can run in horizontal and vertical configurations
• Pump can run in "snore mode"
Applications
• Available for light slurry applications such as pumping concrete, bentonite and pulp.
• General construction work
• Civil engineering
• Deep well applications
You have not viewed any product yet.