Aquaplus ESD Series – Bare Shaft DIN Pumps
Posted by: ozpumpuser
Posted: 29 March 2017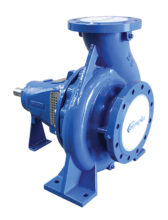 Aquaplus ESD Series – Bare Shaft DIN Pumps

Aquaplus-ESD-Series-Brochure.pdf
The Aquaplus ESD Series bare shaft pumps are durable end suction pumps, ideal for various applications such as building services, commercial swimming pools, irrigation, fire systems and mining. These robust DIN Pumps are manufactured to the international standard DIN 24255 (EN 733).
Features and Benefits
Operating pressure reaches up to 1600kPa (dependant on pump model)
Strong and durable cast metal casing with integrally cast feet
Cast iron bearing housing
Back pull-out capability
1500 RPM-3600 RPM maximum variable speed (dependant on pump model and drive method)
Durable and re-usable casing o-rings
Double shrouded impeller design which is dynamically balanced
Grease lubricated bearings (oil lubrication available on request)
Maximum temperature with standard mechanical seal shaft sealing arrangement -10°C to 120°C
You have not viewed any product yet.