Stalker Pumps ISO Hydraulic Pumps (Close Coupled 2000RPM)
Posted by: zeus
Posted: 04 September 2019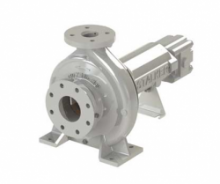 Stalker Pumps ISO Hydraulic Pumps (Close Coupled 2000RPM)

Stalker-Pumps-ISO-Hydraulic-Pumps-4.pdf
The Stalker Pumps ISO Hydraulic Driven Pumps are locally manufactured in Perth, Australia and are designed specifically for Water Cart Trucks. These pumps have been modified for a splined shaft and is close coupled by way of a two bolt SAE mounting to a matched hydraulic motor, removing any potential alignment issues. The reduced footprint eliminates the need to carry couplings in stock or have a specialist on hand to align them.
The below pumps are best suited for dust suppression applications and come with a close coupled connection and an operating speed of 2000RPM.
Features
2 Bolt SAE Flange Mounted easy on/off Hydraulic Motor
Smaller footprint – approximately 200mm smaller in length than standard ISO configurations.
Casing – Standard cast iron AS1830 T260 grade. Alternative options:
Austenitic iron AS1833 203
Stainless steel AS2074/H6B
Ceramic coating
Mounting feet are incorporated into the casing casting
Flanges – Dimensions are to AS2129 table E as standard, optional ANSI and DIN flanges available on request.
Impeller – Standard cast iron AS1830 T260 grade. Alternative material options, 316 stainless steel and zinc-free bronze, also available.
Mechanical Seals: Standard Carbon/Ceramic/Nitrile. Further options available on request.
Bearings – Heavy duty deep groove ball bearings. Greasable and fitted with grease nipples. Available as sealed for life, or running in oil filled housing. Bearing housing is fitted with breather, oil level and drain plugs. Optional constant level oilers and oil cooling also available.
Bearing Pedestal – Hydraulic close-coupled pedestal is a version of the Stalker standard ISO bearing pedestal, which provides interchangeability of bearings and lip seals between standard ISO and the Hydraulic version.
Spline Shaft Drive Arrangement – enables even distribution of shaft loading and power transfer, eliminating axial load transfer to motor shaft, elongating motor life.
Materials of Construction
| | | | | |
| --- | --- | --- | --- | --- |
| Construction | Volute / Back-Plate | Impeller | Shaft | Mechanical Seal |
| CI/CI/MS | Cast Iron | Cast Iron | Carbon / Ceramic / Nitrile | Carbon / Ceramic / Nitrile |
CI (Cast Iron): Suitable for General Industrial Applications
MS: Carbon / Ceramic / NBR unbalanced mechanical seal
Click here to view the Stalker Pumps ISO Hydraulic Driven Pumps Dimensions Table.
Products are sorted by Suction Size
You have not viewed any product yet.