Pacer Hose Kits
Posted by: zeus
Posted: 25 June 2018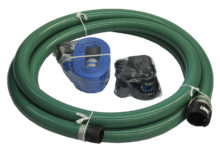 Pacer Hose Kits

Pacer-Hose-Kits.pdf
Pacer Hose Kits contain everything you need to get liquid moving. Pacer Hose Kits are made for use with Pacer Pumps to create a complete pumping solution.
Pacer Hose Kits feature hoses made of polypropylene construction for durability and a long life.
Pacer Hose Kit includes:
2″ or 3″ x 20′ PVC suction hose
2″ or 3″ x 25′ PVC discharge hose
2″ NPT polypropylene discharge elbow or 3″ polypropylene discharge elbow
2″ NPT polyethylene suction strainer or 3″ polyethylene suction strainer
Teflon Tape
Note: For use with Pacer Pumps only.
You have not viewed any product yet.