SAVE 20%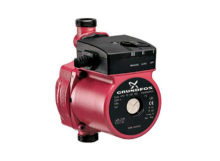 Grundfos UPA Series Homebooster Pump

Grundfos UPA Series Homebooster Pump
The Grundfos UPA15-90 N Homebooster is a domestic boosting circulator pump with a built in flow switch which increases the pressure so that the required pressure is available at showers, taps and any other water outlet for domestic water.
The Grundfos UPA Series pump is used in open systems and can be connected directly to the water main.
Features
Easy installation
Low noise
Water-cooled system
Leakage free
Energy saving
Space intelligent
Construction
Stainless steel body
Built in flow switch
Grundfos Pumps
Grundfos is one of the world's leading pump manufacturers, producing over 16 million pump units each year. They are the world largest manufacturer of circulator pumps, covering approximately 50 per cent of the world market for these pumps. In addition to pumps they also produce standard and submersible motors as well as state-of-the-art electronics for monitoring and controlling pumps.
You have not viewed any product yet.