SAVE 20%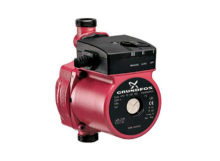 Grundfos UPA Series Homebooster Pump

The Grundfos UPA15-90 N Homebooster is a domestic boosting circulator pump with a built in flow switch which increases the pressure so that the required pressure is available at showers, taps etc for domestic water.
The pump is used in open systems and can be connected directly to the water main.
Features
Easy installation
Low noise
Water-cooled system
Leakage free
Energy saving
Space intelligent
Construction
Stainless steel body
Built in flow switch
You have not viewed any product yet.