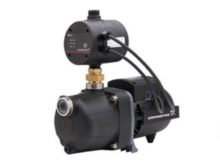 Grundfos JPC Series Pumps

Grundfos JPC Series Pumps
The Grundfos JPC is a compact booster pump designed for domestic and garden use. The booster unit consists of a self-priming, composite, single-stage jet-pump, with PM1 pressure manager.
The pressure manager allows the pump to start and stop automatically according to demand and protects the pump from dry running.
Features
Self-priming – With a suction-lift up to 7 metres, this pump is ideal for transferring water from wells or ground tanks. This feature makes this pump ideal for a large variety of installations.
Robust design – The materials of the pump are lightweight and ensure excellent corrosion resistance.
Protective features – The Booster version incorporates functions to protect both the pump and installation. These protective functions aredry running protection and cycling alarm.
Stable operation – The pump ensures stable operation with excellent suction capacity even when there are air bubbles and small sandy impurities in the water.
User friendly interface- The booster versions includes a user-friendly interface with LED indicators which shows, power on, pump running and alarm indication.
Applications
Grundfos Pumps
Grundfos is one of the world's leading pump manufacturers, producing over 16 million pump units each year. They are the world largest manufacturer of circulator pumps, covering approximately 50 per cent of the world market for these pumps. In addition to pumps they also produce standard and submersible motors as well as state-of-the-art electronics for monitoring and controlling pumps.
You have not viewed any product yet.