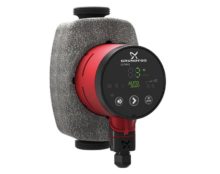 Grundfos ALPHA2 Series Pumps

Grundfos ALPHA2 Series
The Grundfos ALPHA2 pump is a typical pump in a system that runs at full speed day and night. The ALPHA2 (N) adapts to the variable demand while keeping your comfort, saving a considerable amount of electricity.
The installation of a Grundfos ALPHA2 (N) pump will decrease the power consumption considerably, reduce noise from radiator valves and similar fittings, and improve the control of the system.
The unique Grundfos auto adapt function ALPHA2 (N) will analyse and adjust automatically to your heating and water use demands.
Features
Robust design – The pump is made of materials that ensure excellent corrosion resistance. Designed for open systems ALPHA2 N is constructed from quality stainless steel with a high grade composite impeller. The ALPHA2 is constructed from rugged cast iron and is the perfect choice for closed systems.
Quiet operation – Permanent magnet motor provides an operating noise level at less than 43 decibels, the ALPHA2 is whisper quiet.
Auto adapt – The pump learns the user pattern of the customer and learns from it. It only runs when hot water is needed.
Energy efficient – The reduction in power consumption has been achieved by using the latest permanent magnet motor technology
Applications
Grundfos Pumps
Grundfos is one of the world's leading pump manufacturers, producing over 16 million pump units each year. They are the world largest manufacturer of circulator pumps, covering approximately 50 per cent of the world market for these pumps. In addition to pumps they also produce standard and submersible motors as well as state-of-the-art electronics for monitoring and controlling pumps.
You have not viewed any product yet.