Flo-Kwip Dewatering Pump
Posted by: zeus
Posted: 02 May 2016
SAVE 15%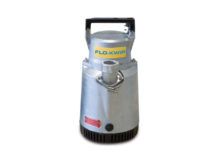 Flo-Kwip Dewatering Pump

AR-10-DATA-SHEET.pdf
Light, compact and portable, the Flo-Kwip Dewatering Pump is an electrical submersible pump suitable for commercial applications such as the dewatering of construction sites, mines and flooded areas.
Designed for handling liquid with abrasive qualities.
Features
Robust design
Light weight and user friendly
Wear resistant wet end in CR alloy steel and natural rubber
Adjustable wear parts
Complete seal pack for easy and fast service
Built-in capacitor/contactor
Easy installation
You have not viewed any product yet.