Davey Prime Jet 240 Pumps
Posted by: zeus
Posted: 25 June 2018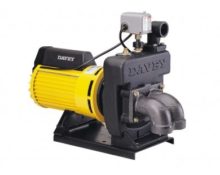 Davey Prime Jet 240 Pumps

Davey-Prime-Jet-240-Pump-Brochure.pdf
The Davey Prime Jet 240 Pumps are rugged, reliable, single stage centrifugal pumps with inbuilt injectors, driven by Davey's TEFC motor. The simple design has a robust construction for long life, and is fitted with a pressure switch for easy conversion to automatic operation.
Features
Single stage (one impeller) convertible jet assisted centrifugal pump
Solid cast iron casing with cast bronze impeller
Pressure switch fitted and pressure gauge supplied
In-built thermal overload protection with automatic reset in 1Ø model
Provides motor protection against low voltage and/or high ambient temperatures
High TEFC – IP rating
Long term protection against vermin, dust and water
Convertible to shallow or deep well options by choice of either shallow well or deep well injector kits
Applications
Water supply from dams, creeks, rivers and bores
Tank filling
Stock watering
Sprinkler supply
You have not viewed any product yet.