Davey Mukmova Pumps
Posted by: zeus
Posted: 25 June 2018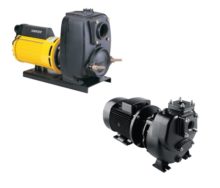 Davey Mukmova Pumps

Davey-Mukmova-Datasheet.pdf
The Davey Mukmova effluent pumps are robust in design featuring single stage, open vane, semi vortex, self-priming centrifugal driven by either a single or 3-phase TEFC motor. Ideal for pumping effluent water containing soft solids in suspension such as dairy or piggery waste, liquid food transfer and general water transfer. With head pressures up to 24 metres and flows up to 600lpm, the fast self-priming Mukmova features a thick section cast iron pump body.
Mukmova Features
Semi vortex open vane impeller
Solid cast iron casing and impeller
Mechanical seal is grease packed with grease nipple
Inspection cover held by two wing nuts
Choice of 240 / 480 volt single phase and 415 volt three phase, 50Hz models
Single phase models are capacitor start/capacitor run design
Automatic resetting motor overload in all single phase models
Oversized motor used, with ample power reserve
Davey manufactured TEFC, IP56 motor
Mukmova Jumbo Features
Robust cast iron casing with thick walls for longer pump life.
Open impeller design allows for high solids passage (up to 25x40mm) with little chance of blockage.
Internal armoured volute plate made of nodular cast iron to resist the abrasive and corrosive action of liquids even with solids in suspension.
The armoured volute plate is fixed to the casing without screws for fast and easy removal.
Self-priming action allows the pump to prime without the need to fill the pipe and to be operated without a foot value to reduce the risk of blockages.
Large priming and drain plugs for fast filling and draining of the pump casing.
Comes with companion flanges for easy installation of piping.
Applications
Effluent water
Diary or piggery waste
Liquid food transfer
Bentonite sludge
Sawdust muds
You have not viewed any product yet.