Davey General Purpose Dewatering Sump Pumps
Posted by: zeus
Posted: 26 June 2018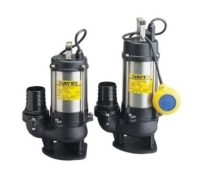 Davey General Purpose Dewatering Sump Pumps

Davey-General-Purpose-Dewatering-Sump-Pump-Datasheet.pdf
Davey general purpose dewatering sump pumps are designed for pumping neutral, non-aggressive waste water in water transfer, water removal, sump emptying and septic water disposal applications.
Features and Benefits
Corrosion resistant 304 stainless steel shaft, motor shell and fasteners.

Long service life
Attractive, lasting appearance

Open impeller, centrifugal design

Able to pump soft solids in suspension
Less susceptible to blockage
Capable of higher heads/pressure

Double mechanical shaft seal in oil bath with hard faced silicon carbide/ceramic seal on pump side

Added motor protection
Long service life

Sand slinger lip seal

Added protection
Long service life

Automatic resetting thermal overload

Protected against overloading

"A" models fitted with automatic float switch with a present float length

Safe unattended operation

Low velocity inlet strainer fitted

For a firm and stable positioning during installation and operation
To restrict pumping of solids which may damage or block the pump

HO7RNF oil resistant leads with bare wire lead ends

Easy to connect to power supply terminations
Long life in dirty water
Applications
Smaller models:
Dewatering of cellars, garages, ditches, pits & ponds
Pumping clean or slightly dirty water
Sump emptying
Decorative water features
Larger models:
Sump emptying
Septic water disposal
Water transfer
Pumping of neutral, nonaggressive factory waste water
You have not viewed any product yet.